IMO
This makes me really angry. Come over to Segullah to find out why.
Hey, it's date night! I lucked out at the movie theatre this week and saw two really great films. They were both at the artsy fartsy theatre which means  they may not show up near where you live (although I guess it depends on where you are). But they're so definitely worth seeing. It's not too late to call a babysitter and scoot on over to the movies!
The Lunchbox. This is an Indian (from India, not Native American) movie about an older widower and a young woman who strike up an interesting correspondence through a lunchbox. If you've seen any Bollywood films you know that Indian movies can be crazy over-the-top and unrealistic. The Lunchbox is nothing like that; it's subtle and realistic; it's sweet and sad and lovely and ugly all at once. Best of all it gives a realistic portrayal of middle-class life in India. I just adore a movie that helps me experience another culture. The Lunchbox is beautifully acted and very thoughtful. Such a refreshing change from the typical comic-book oeuvre that is everywhere at the megaplex these days. (Also I want a tiffin lunch box like the one in the movie, but one that's big enough to put sandwiches in. In case you were wondering.)
Tim's Vermeer. This is my favorite documentary I've seen in years. Tim, the main character, is a cool inventor of lots of technological stuff. He just loves the painter Vermeer and has a hypothesis that Vermeer must have used some kind of magnifying glass/lens system to paint his gorgeous works.  So Tim sets out to recreate Vermeer's studio and his painting supplies to see if he himself can follow in the Great Master's footsteps using some old-fangled technology. It's a fascinating, engaging and thoroughly cool movie about a modern-day genius. Mister loved this movie as much as I did. If you don't think you like documentaries, you're a weirdo give this one a try.
I recently bought a new mascara by Tarte. It came highly recommended on Makeup Alley (if you don't consult Makeup Alley before you buy makeup, then you are really missing out) and it was 40% off at Ulta the day I happened to be there. Imagine my surprise when I opened it up to try it on and found this: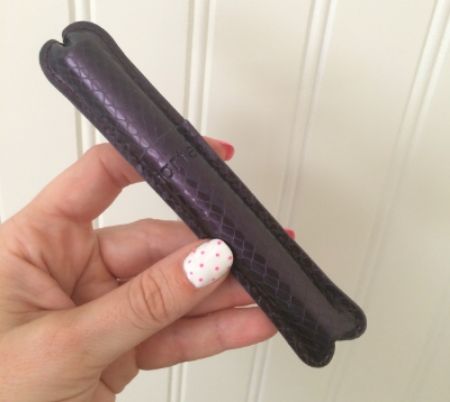 Yeah, it's fake alligator-ish leather. This isn't some kind of case to hold the mascara tube, this is the mascara tube. It's supposed to be swanky, I guess. Really it's slightly awkward with a seam down the sides.
Mostly, though, I'm just slightly embarrassed because all I can think when I pick it up is that it looks like a fancy tampon case.  Seriously, Tarte, what were you thinking?
P.S. The mascara is excellent, by the way.
I bought Ada an Easter dress a couple of days ago. As I have done for many, many years I cut the bow off the front of the dress.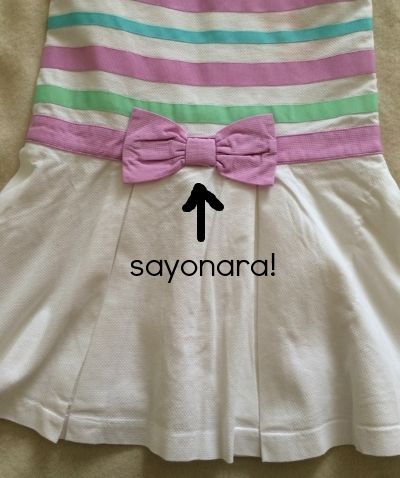 I really hate bows. I always have. I don't mind a bow on a dress that naturally occurs, say on the sash of a dress. But I hate bows that are sewn on to clothing for no other reason than to just make a dress more . . . busy.  I don't know if this simple act has somehow been passed on to my daughters, none of whom like frilly clothes. Although I don't want to give you the wrong idea: I love layers of  ruffles. If I see something with ruffles, I must buy it. It doesn't matter what it is. Same for polka dots. I cannot control myself. But bows? That is another story.
Things are not so bow-covered now but that wasn't always the case. Back when India was a baby in the mid-90's there was a movement to encase little girls in more bows and floppy collars and gobs of fabric than should have been allowed. This movement was called Daisy Kingdom. You most likely have blocked these clothes from your memory, either because you bought it for your kids or you are young enough to have been dressed in this hideous stuff yourself. Or maybe you're in your early 30's you only saw these monstrous dresses from afar.
The distinguishing factor of these dresses–besides the sheer volume of fabric and superfluous use of bows–was the cutesy bunnies and bears everywhere. I have always hated cutesy crap. Somebody made us one of these as a wedding gift and we were supposed dress it in baby clothes (different outfit for each season!) and have it sitting around our house. Naturally it found its way to Goodwill within a few month of the wedding. Who gives a grown woman a stuffed animal?
I was living in Portland during the Daisy Kingdom heyday and we actually had a humungous Daisy Kingdom store downtown. I remember going down there and being simply overwhelmed by the ruffliness of everything. On paper I theoretically liked this stuff. I love little girls in pinafores! But in reality these clothes were much too over-the-top. I don't remember if you could actually buy these dresses or if everything was just patterns and fabric and it was all do-it-yourself. But you know Mormons and how crafty we are. There was a parade of little girls with crazy curls wearing these dresses week after week at church. And it was just to sickly sweet for my taste.
And there I was picking the bows off of everything. I had to buy expensive socks from a catalog because that were the only place I could find non-ruffly socks (oh yeah, I only hate ruffles when they're on socks. Or pageant dresses.)  Nowadays you can buy classy kids clothes all over the place but I still find myself picking off bows trying to make my girls look as non-cheesy as possible.
A few months ago I bemoaned the fact that I just couldn't find a recipe app for my iphone that I liked. I got a lot of suggestions from my readers and actually tried most of them. I even went so far as to try apps that were foreign and had zero reviews.  I finally found one that I really love.  (Not one of the foreign ones, alas.) It's called Paprika. I've been using it for a few months and I have to say that I really, really love it.
There are about a jillion recipe apps out there. Most of them, however, are just electronic cookbooks. That's not what I wanted. I wanted a place to keep and organize all my recipes; not somebody else's. Here's the recipe problem I was hoping to solve: I'll oftentimes be at the store and realize that I'm supposed to bring somebody dinner the next day, or I have to make cookies for a bake sale, etc. But here I am at the store and I can't remember how many lemons I need for the lemon squares or whether it's parsnips or rutabagas I put in my beef stew. Some of the recipes I use are online and I can look them up on my phone, although I have to stand there in the middle of the produce section for five minutes trying to locate the recipe.  Most of my recipes are in my cookbook, though. Not so convenient when you're at the store.
I also wanted to have all my recipes available digitally so when someone asks for a recipe I can just whip out my phone and send it to them immediately.
I've been hoping to find an app where I can store my recipes and organize them in my own way. I'm not OCD about very many things, but recipes are one of them. When I stumbled upon Paprika I was very hesitant to try it because it's $4.99. That's a lot for an app. And the ipad app is another $4.99, cough choke*. But I've been desperate. I've had to call up my kids from the store one too many times and have my seven-year-old try to read me a recipe. Talk about frustrating! (You can also get a version of this for your PC. And by PC I mean a Mac. I don't know if this is available for actual PCs because I turn up my nose at such things. But the computer version is $20! Jeez O Pete, that's a lot of money for a recipe program. But I can see how it would be super handy to be able to sync all recipes wirelessly between your iphone, ipad and computer.) Oh, by the way you can get this for your Android too.
But then I think how I spend more than $20 going to see a movie with my husband that only lasts for two hours and isn't $30 for recipe apps that I'll use every day such a better deal? Yes!  Anyway, here's why I like Paprika:
–Very clean, easy-to-use interface. You can figure it out in about three minutes. It also has a tutorial. I love an app with a tutorial.
–You can add, rearrange and edit categories. This is the thing that all other recipe apps lack. I like to organize my recipes just so. For example, I like to have a breakfast category. You'd be surprised how many cooking apps don't have a breakfast category. (I'm sorry, pancakes do not belong in the bread category!) I also like to arrange my categories in order of service, not alphabetically. Therefore breakfast always comes first and dessert comes last. I like salads put together with side dishes because a lot of times I think of salads as a side dish and I like to be able to peruse the whole category for possibilities. But here's the awesome thing about paprika: I can have a whole category for salads and I can list salads under side dishes too! It's a lot better than a traditional cookbook that way. You can also create subcategories within each category. Under "desserts" I have subheadings of "cakes", "cookies" and "pies".
–It's super easy to add recipes. You can add them by hand, which is totally straightforward. Or you can add them from your favorite cooking sites with the touch of a button. There's a browser within the app that lets you go to any site; you simply press "save recipe" when you've found the one you want and it automatically adds the picture, and separates and formats the ingredients and directions for you. You can also edit each recipe in case you've changed it to alter your tastes. Most cooking websites are supported. If not, you can always cut and paste recipes into Paprika which is still super easy.
–You can scale the ingredients. Next to each recipe is a button that will let you change each recipe size, either making it smaller or larger. If you're like me and try to double recipes in your head, only to forget to double some of the ingredients, this feature is a life-saver.
–There are several timers within the app. Anytime there are cooking times listed in a recipe, you can just click on those times and a pre-set timer pops up. Each timer has the item listed underneath, so if you're cooking a couple of different items, you'll know which one the timer is ringing for. Is that convenient or what?
–There's a nifty grocery list feature. It arranges items according to the aisle at the grocery store. So cool. And it consolidates items so you don't get eggs listed three times from three different recipes. You can add and edit super easily to delete things you already have at home or add items extra items that you need from the store.
–You can search for recipes depending on items you have on hand. You can also create menus on a calendar. I kind of fly by the seat of my pants because my schedule has the habit of getting completely out of control at the last minute. But if you are a plan-aheader this is just great.
There are a couple of features that I think are superflouous, like a star rating system. If something doesn't get five stars it doesn't make it into my collection. But if you are a chronic saver of new recipes to try, this might be a good thing.
I really can't think of many things I don't like about this app. If you cook, I would highly recommend it. And if you don't cook, what is the matter with you?
*I have my iphone and ipad in the kitchen with me to cook quite often. I hate touching my grubby hands all over my electronics but what's a girl to do when she needs to scroll down to see the rest of the recipe? Use a baby carrot instead! It totally works on a touchscreen and is much cleaner than the hands you just used to squish up raw ground beef into meatballs. Just stay away from the ranch dressing, OK?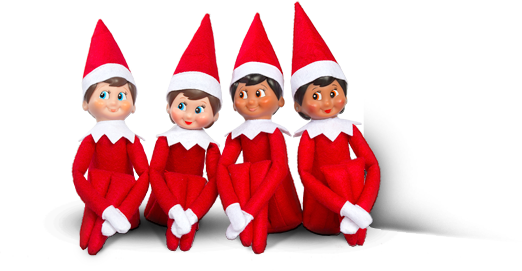 I may or may not have announced on Facebook a couple of weeks ago: "If you post pictures of your Elf on the Shelf I will unfriend you for the month of December." Partly to be funny, but partly out of spite I felt I needed to issue my warning. Some people like this "tradition" (Nobody was doing it five years ago so it's not really that much of a tradition), but some people really despise it (me!). There are so many reasons I hate it: using weird bribery to get kids to behave, furthering the "I Believe" cult of people bearing their testimonies of Santa, and it does have such a creepy little face. Mostly, though, I hate this Elf on the Shelf thing because it symbolizes all the crazy stuff we do to ourselves during the holiday season. Somehow Christmas and St. Patrick's Day have come together to create a completely bizarre tradition: an Elf that gets into crazy mischief every single night. As if buying presents, giving neighbor gifts, attending concerts and/or parties, making travel arrangements, decorating our houses, doing one or more advent calendars, and baking at least a few more times than we usually do isn't enough. Now we have this Elf to worry about to.
I know that most of the people who do it say it's a fun and harmless tradition. But it seems to be a bit overboard. It seems to be just one more thing to increase the chance of being in a bad mood come December 25th. I would just ask all the big proponents of the Elf movement how many times they've posted pictures of their Elf hijinx on Facebook, blogs or Instagram. Because it seems that the people who are most into the Elf are the ones who are most active in social media. Are they really doing it for their kids or are they doing it to impress everyone else?
Is the Elf on the Shelf really to blame? Or is it just a symptom of our runaway culture? Is everything about Christmas getting out of hand? I have to admit that a few years ago when I had had enough of "all this materialism" and decided to make every single Christmas present by hand for all our relatives that I became a stressed out basket case. That Christmas was sheer misery. I thought that by making everything I would somehow get in touch with the spirit of Christmas, only to find myself knitting and making soap at 3 am on several occasions.
You might not believe this since I'm the mother of six, but it's is my first year being a soccer mom. I've avoided the stigma of soccer mom-dom for many years, for the same reasons that many mothers refuse to drive minivans: you feel like you have lost every bit of cool-ness and are now nothing but a slave to your children. Unlike a minivan, which is pretty much the greatest thing ever invented, soccer is a life-sucking drag. OK, it's not really that bad. But somehow I ended up sitting on a soccer field three nights per week and for a few hours on Saturday.
Listen, I don't hate team sports. Well, I kind of do, but my children–Adelaide especially–have been begging to play soccer for years. Yes, years. And when my friend Anna called saying her son and Jasper could carpool, I threw caution to the wind and signed up Ada and Jasper for the local soccer club.
Now I finally get it when people ask me incredulously how I juggle everything. Before we did soccer, life was pretty much a cake-walk, schedule-wise. We really only did piano lessons and those lessons were mostly before school. After school we just all hung out, I helped kids with homework, listened to tattling/fighting children and made dinner.  Once soccer started I was required to drop everything right at Prime Time and head over to practice. That meant that dinner became a pre-made thrown-together affair. If I was on top of things (ever so rare) I'd have some sort of crock pot thing ready. Most of the time, though, it was easy-to-heat up food like Kirkland pulled pork tacos (it is sublime meat, by the way). Better than McDonalds but I think feeding a family is a job that mothers need to take seriously.
Toward the end of the season I just dropped the kids off and went home, picking them up later. The field is only 5 minutes away so it's not a huge commute. But then they feel bad that I never watch so I'd get sucked into staying. While I'm complaining let me just remind you that September and October are hot here in Texas, even at night, and sitting outside was definitely torture.
And then there were the games on Saturday. Saturday morning is my special time. My laze about time. Not my hustle-up-and-find-team-shirts-and-remember-that-it's-our-turn-for-snacks-and-then-sit-in-the-hot-sun-for-three-hours time. And if you even suggest that I'm being selfish, pardon me while I laugh in your face. You can accuse me of being lots of things but when you're a mom of this many kids, selfish is one thing that is simply not possible.
By the end of the season (which was last week) I realized that the whole family was suffering. Yes, two children got to do something fun but ultimately playing soccer wasn't the biggest deal to them. I felt like it added a whole new layer of craziness to our lives. I wasn't able to spend as much time helping the older kids with homework (and yes, older kids need help with homework and it's way harder than learning times tables). I didn't have that down-time to connect with everybody.
When I stopped to think about it, why were even playing soccer in the first place? Yes, the kids wanted to. But they also want to drink Hershey's syrup straight from the bottle and stay up tip 11 pm. In other words, who cares what they want? But maybe they were soccer prodigies that would never have a chance to develop their talents? Uhhh, yeah. If they were born to play soccer we would have figured that out years ago.  Maybe so they could learn teamwork? They're already on a team. Team Hildie and they're on this team for eternity. Because they're the only kids who've never played soccer and I'm starting to feel like a loser mom? Ahhh, now we have the real reason. It's just the grown up form of peer pressure. Heaven forbid your kids aren't the only ones taking dance/soccer/gymnastics. Kids don't see the benefit of eating a nice dinner as a family every night. But experts have been saying that this is the one thing that determines whether kids take drugs or become successful. Not soccer.
It may make me sound like I should live in Communist China but what is good for the individual is less important to me than what is good for the whole. And soccer hasn't been good for the whole. So toodle-oo shin guards, may we never meet again!
I really, really love Instagram (you can find me @heyhildie). I used to fight it because I hated the idea that all my pictures have to be square. Now I accept square-ness (and I know how to get past that if I need to). Instagram is kind of like Facebook but without all the ads and weird stuff. And, of course, you always have to use a picture (or video!). That's the whole point.
If you're on Instagram or are thinking about it, let me give you a few hints. These might sound a little bratty, but I'm just trying to help you out. If you want people to like your stuff (and obviously you do or you wouldn't be putting your pictures up for public approval on Instagram), you need to follow a few guidelines:
1. Don't be a Private User. There is nothing more annoying than having someone comment on one of your photos, only to click over to their info and this is what you see:
There is pretty much no info on your Instagram account unless you put it there. Meaning that there is no way people can figure out your name and address and kidnap your kids unless you put it on Instagram on purpose. Facebook is way more scary in that respect.
 2. Keep the pics of your kids to a minimum (I'd say 50% or less). Yes, I know you have the cutest toddler ever and your teenage daughter is simply gorgeous, but unless your mom is your only follower the rest of us don't want to see endless photos of your kids. It's boring. Sorry. It also makes you look lame and one-dimensional. Certainly there is more to your life than your children (please say yes). I know that Christmas and Halloween are kid-heavy holidays and we're all guilty of putting up lots of pics on Instagram during that time of year. Just try to expand your horizons a little and find interesting/pretty/funny things that don't revolve around your offspring.
3. Limit pictures of your animals. Pets are even more boring than kids. At least kids have different facial expressions. Unless your pet is doing something really hilarious, or it's a particularly gorgeous shot, don't post it. A cat lying on a bed is not interesting unless you're a ten-year-old girl. If that's who follows you on Instagram, then knock yourself out. I have one friend whom I had to unfollow because all she ever posted were pictures of her Afghan Hound sleeping. It just looked like a brownish mop laying on the floor. You can only give a person so many sympathy "likes" before you just unfollow them.
4. Do not even think of posting a shot looking down at your shoes! We've all taken one, which is what makes it so boring and overdone. I don't care how great of a filter you use. If you want to show that you are about to go running, wrack your brain for some other way to illustrate this.
5. Don't go overboard with hashtags. This is a tricky area. I like a hashtag if it's funny or clever. Or if I actually want to be able to search for the topic of the picture. Please don't go crazy with the "funny" hashtags. It can get really, really annoying. Like an eight-year-old who won't quit with the knock-knock jokes.
Yes, you can put whatever you want on Intagram. But if you want people to like your pictures and follow you, you need to keep things interesting.
This subject comes up again and again every time I'm together with a bunch of moms; do you force your child to keep taking piano lessons even when he starts to hate it and complains endlessly?  Most parents were allowed to quit and always bemoan the fact that their parents didn't make them keep with it. I come from the opposite side: my mother wouldn't allow me to quit. "You'll thank me one day!" she loved to say.
I never liked playing the piano. Never. It was not the instrument that spoke to me. I wanted to play the harp. "That's much too expensive!" my mother informed me on more than one occasion; expensive unlike, say . . . a piano? Because pianos are dirt cheap, don't you know.  Anyway, playing the piano–and eventually the organ–was my mother's dream. The woman loves an audience and the thought of playing in front of the church congregation every week was her fondest wish. But she had nine siblings and her mom let her quit when she complained, blahblahblah. We all know where she was coming from. So my mother decided that she would force her children to play the piano until they graduated from high school no matter what. They would praise her name for it one day!
When I started piano lessons at age 8 it wasn't too bad, but within a year I grew to hate it. I hated the lessons, I hated the piano in general and I especially hated my mother for forcing me to play. By the time I was ten I would get terrible stress headaches every lesson day and I would cry most of the way to my teacher's house. My mother refused to budge. "Just think how wonderful it will be when you can play the organ in front of everyone," she would sigh. Not being the kind of person who likes to perform at all, this was the most horrible scenario I could imagine. "You'll thank me one day," she would shout from the car as I dragged myself to the piano teacher's sliding glass door. One day I snapped. I narrowed my eyes and said in a very even, cold tone, "once I turn eighteen I will never touch the piano again."
I don't think it ever occurred to my mother that her daughter would be more stubborn than she was. Even after a go at organ lessons, which my mother thought would be "exhilarating" ("wait, now I have to play with not only my hands but my feet too? Forget it!"), I continued to hate all of it.
Fate smiled on me when I was sixteen. I was in a car accident and my arm was badly broken. Not only did I have a cast but because my arm had broken backwards (The bruising was horrifying), the muscles and tendons were a complete mess and I needed physical therapy for months.
I finally got to quit piano lessons.
Once my arm recovered and I probably could have resumed playing, I never did. I was as good as my word; I never played the piano again. And as a side benefit I grew to hate my mother for disregarding my feelings by forcing me to do something I so clearly hated.  Now if I sit down at the piano I can kind of pick out a tune with one hand; I barely remember anything.  Am I sad about this? Not at all. I hated playing the piano. It was my mother's dream, not mine. There is no regret at all.
So now I have children of my own. And the idea of music lessons eventually came up when they were little. I do believe that learning music is very important; I believe that learning to play an instrument can teach discipline and responsibility. But so can lots of other things. In the Mormon culture especially, learning an instrument is very important. So this is what I have done with my children: they have all had to take music lessons, usually on the piano.  The minimum for lessons is one year; that is non-negotiable. Every human being should learn how to read music; even if it's just to sing an unfamiliar hymn in church. It's just a life skill like learning to make your bed.
After one year we reassess. If the child wants to continue to play the piano, that's great. If they want to go on to another instrument that's fine too. Finn went on to play the trumpet, York quit completely (he is just not the kind of person who is drawn to playing an instrument. It is not where his talents lie and even at the age of eight I realized that about him and I was OK with that.) India continued playing the piano for a few years and then we had a couple of years off because we could not find a teacher that she gelled with. She continued to play on her own nearly every day and finally we found her a great piano teacher last year. She's doing well and still enjoys it.  Arabella has finished her second year of lessons (we got a late start with her), rarely needs to be reminded to practice and has never mentioned quitting. Maybe she'll stick with the piano, maybe she won't. She's shown some interest in the hammered dulcimer than I have sitting around and if she wants to take lesson in that instead I have no problem with that.
My musical story has a happy ending (besides the fact that I don't hate my mother anymore). When I was about 32 I decided to finally take harp lessons. I had loved the harp all these years and realized that it wasn't too late to learn something new (why have we decided that childhood is the only time you can learn anything new???). I found a wonderful teacher and rented a harp. Let me tell you something, it is a million times easier to learn an instrument as an adult! All that music theory my piano teachers tried to explain over and over and over? It finally made perfect sense. I loved the harp and was mature enough to practice every day. I progressed a jillion times faster than I had as a child. When we moved to Texas I turned my harp back in and with six kids under age 11, I just didn't have the time to start it up again down here.
I have missed playing the harp. Mister knows that. So my sweet husband tried to buy me a harp for my birthday. But it's rather hard buying an instrument when you know nothing about it. So he had to spoil his surprise and tell me his plan. I was more than thrilled to help him find the perfect harp. We picked it up yesterday and I am over the moon.
I am too crazy busy with end-of-school stuff and a huge church party tonight and a Blog Her conference tomorrow and Friday to spend more than a few minutes here and there playing. But come Sunday, I'll dust off my old harp books and go to town.
To answer my original question: should you make your kids keep taking music lessons when they complain about hating it? Please don't make a blanket statement, yes or no. Think about your child; think about her personality. Ask if there's another instrument she would rather play. My cousin really wanted to play the saxophone but her dad said no because saxophones aren't in an orchestra which means it's not a "real instrument". She had to settle for the trumpet which she didn't like much at all. Would your child be better suited for some other pursuit? York has the brain of an engineer that likes to invent and solve problems; playing music felt very dull and stifling to him. We accepted that facet of his personality and moved on. Not everyone in the world is suited to music.
Also ask yourself why you want your child to play so badly. What does it say about your hopes and desires? If you always dreamed of playing on the stage, don't try to live out your fantasies through your kids; it's going to backfire at some point. Why don't you take lessons? You may be too old to become the next Van Cliburn, but you can still get pretty good and you'll feel much so much prouder of yourself than you would of your child. It really isn't too late to start your own musical training!
Believe it or not, your job as a parent isn't to gild your child with hobbies and talents and trophies. Your job is to help your child find her interests (not to decide what they are for her), learn discipline and love herself. If music is a part of that, great. If not, that's OK too. Be prepared to let it go. If your child is a prodigy, you'll know early on. Be sensitive to what your child really needs. Not everyone wants to play in the high school marching band or accompany the church choir. Every child does need to be listened to and validated.
HEB (the best grocery store in Texas, hence the World) sent me some new Primo Picks to try out. Primo Picks are interesting/cool/extra awesome products that they feature at the store. Since I am always game to try new things, I was pretty jazzed.
I waited until the kids got home from school before I tried anything. I wanted to have more than one opinion than just my own. The clear favorites for them were these yummy things: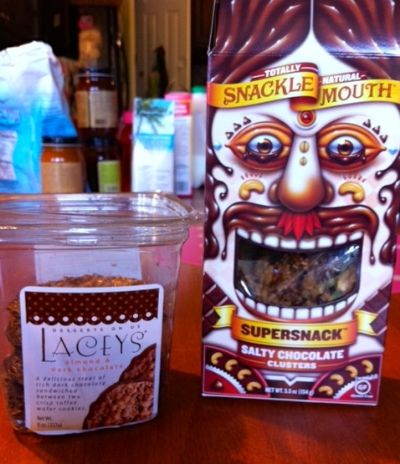 The Lacey's cookies are halfway between candy and a cookie. They're two of toffee-esque cookies with a slather of dark chocolate in-between. I've seen them around before but never tried them. Ohhhh man, I wish I had never tried them. They're now what I fantasize about when I have my cheat day. Since you can't really send your kids to school with such sugar bombs (save those for Mommy, please), This Snacklemouth Salty Chocolate Clusters is a little more appropriate for every day. The kids snarfed down this stuff which is kind of like moist, chocolatey granola. It's gluten-free and not very high in sugar. A perfect addition to the lunch boxes. Or at least it would have been if we hadn't promptly eaten it all. Plus, don't you dig the funky box? The guys has chocolate dripping from his mustache and eyeballs! Sweeeet!
The chips were also a big hit. As much as I love sweets, I love a nice salty potato chip as well (with a coke, naturally). I like the big crunch of Kettle Chips and these don't disappoint. They have a really pronounced potato flavor which I appreciate when I eat chips; I don't want to taste a bunch of chemicals, thankyouverymuch. Plus the bag is cute. I like the fonts. Yes, fonts matter!
I really appreciated the coconut oil and coconut water. Despite appearances to the contrary, I'm actually trying to make healthier choices for my family. Lately when I've cooked stuff in the frying pan I've been using olive oil. I've heard amazing things about coconut oil, so I was very happy to give HEB's virgin Coconut Oil a try. I cooked up some Basa fish (have you heard of it? It's some new kind of fish and it's superyum) in the coconut oil and slathered it with guacamole (you don't eat guacamole on your fish? What's the matter with you?) The coconut oil gave it a subtle tropical-ish flavor. I like it. And it's fantastically healthy (for a fat, I mean. It's not healthier than a handful of fresh carrots.)
My whole family was very excited to try the three flavors of BBQ sauce. Let me give you a little background, though. We used to always buy grocery store BBQ sauce and it's always tasted fine. That's because we didn't live in Texas. Now we live in Texas where BBQ is taken terribly seriously. We usually buy a bottle of sauce at our favorite restaurants (I prefer the sauce at Southside in Elgin, TX and Mister Prefers the sauce at Rudy's.) One time we ran out of restaurant sauce and I bought the same old BBQ sauce at the store like we used to buy. Only this time it was inedible. It tasted all wrong. It was weirdly sweet and had nasty chemical overtones. (I complain about food tasting like chemicals a lot. That's because I'm spoiled and like homemade-tasting food. Unless it's Funyons.) We scraped the sauce off and ate our dry meat without. So I was intrigued by the trio of sauces that HEB provided. If nothing else, it gave us an excuse to buy a heaping lot of brisket. The verdict? All three sauces were mighty good. No chemical flavors whatsoever.  Finn, Arabella and I preferred the Better Than Good Traditional Texas sauce. Mister and India like Mama's Original sauce the best. York Preferred the Better Than Good Texas Moppin' Sauce, and Ada doesn't like meat at all so she just had a salad.  The Texas Moppin' Sauce has a definite mustard overtone. I think mustard is simply the most disgusting condiment in the world so I didn't care for it at all.  I was more than happy to find some grocery store sauces that I can be happy about using. Now I don't have to buy spendy bottles at restaurants any more.
I've been thoroughly impressed with the Primo Picks at HEB. Pick up a few next time you're at HEB. And if you don't live in Texas, poor you.
I was compensated by HEB but, trust me, the opinions are all mine. You can't buy my taste buds.