Videos
This might just be my favorite animal video ever. Make sure you watch til the very end.
We started off our third day in London by eating a lovely breakfast made at home. I was particularly in love with this egg carton we got at the grocery store around the block.
We then headed from our place in Russell Square . . .
. . . to Leicester Square (I thought everyone knew it's pronounced "Lester" but I overheard some Americans refer to it as Lie-sester. So embarrassed for them.)Leicester Square is where they have the half-priced TKTS ticket booth for a lot of the plays. Here's how it works: many of the plays sell their extra tickets the day of the show for a discount. Sometimes they're quite a bit cheaper, but usually it's about 25%-40% off face value. The big name musicals rarely offer true discount tickets–they don't need to. So if you want to see Book of Mormon or Matilda or something extremely popular, just get the tickets at the theatre box office. Otherwise, you can check the TKTS website ahead of time to see which plays they generally have tickets for. You never know what's available until the day of the performance, though. Some theaters don't release tickets until closer to lunchtime.
For all the less-popular shows you'll go to the TKTS booth in the square (the back of it faces the Shakespeare fountain). There are a bunch of other little shops saying they sell half-priced tickets too but they aren't legit. You want the stand-alone booth that says TKTS. There's always a ginormous line. We would go most mornings so we'd be there when the booth opened at 10 am (11 on Sundays). We'd be done buying our tickets for that day's performance by 10:45 at the latest. (A lot of shows are dark on Mondays so keep that in mind.) Some shows will sell tickets two days in advance as well. Not all of them, but some. There is a computer screen outside the booth that says which tickets are available that day and the next and how much they cost so you'll be able to make an informed choice when you get to the front of the line. You can use that time to search your phone for reviews of the plays so you can get an idea of what's worth seeing.
If there is a show you are simply dying to see, it's best to get tickets as soon as you know you'll be going to London. If you aren't super picky (this is London theatre, after all. It's the best of the best–most of the time. Some plays are dumber than others) or you'd rather take the budget approach, wait until you can buy tickets at TKTS.  I knew that we'd want to see a play on Monday so I checked the box offices ahead of time to see which plays were going to be performed and made sure that we saved one of those shows for a Monday performance when the other shows wouldn't be playing. Does that make sense? In order to maximize your show-going you need to know your options. You can check here for a master list of what plays are performed when. We generally avoid matinees since we like to sightsee during the day. There isn't a whole lot to do at night in Europe if you don't drink and all the museums are closed (and the shops close at 6! It's so insane!). Better to see a play in the evening.
There are also several movie theaters in Leicester Square. One, in particular, is where they have a lot of the European premiers of big movies. While we were there people were queuing for the X-Men premier (lots of weird cosplay people) and on a different night, there was the European premier of Godzilla. And Postman Pat: The Movie. We didn't see any of them. We can do that in the U.S.!
Soooo after that long explanation we ended up with tickets to George Orwell's 1984. We then commenced our day of sightseeing. First on our list were the Churchill War Rooms. This is the underground area where the British ran WWII. Shortly after the war ended, this area was boarded up and left undisturbed until the 1970′s. I guess everyone was so sick of the war that it took a good long time before they wanted to think about what happened. But it was opened back up and was preserved as a museum. And it is a very good museum. Part of it is a tour of the rooms where the top people in Britain ran the war. It's got a lot of very interesting multimedia presentations. The rest of the museum is dedicated to the life of Winston Churchill. He was quite a fascinating man and his life spans the history of 20th century England.  It sounds quite boring but it was a great museum. (Don't take my word for it, check out the reviews on Tripadvisor!)  The museum gift shop was particularly great with a bunch of British wartime memorabilia. Love these postcards that I got!
After visiting the War rooms we decided to do a little shopping. We headed over to John Lewis, which is the best store ever. I found the cutest children's clothes but I didn't dare buy too many in case they didn't fit the kids. They have all sorts of kitchen things (as well as kitchens themselves), clothes, fabric, wallpaper, a fancy little grocery store, and of course clothes for everyone. I could easily have spent a whole day in there.
When we left the store we found that it was pouring rain beyond belief. We were trying to get down to a restaurant near the 1984 theatre and for some insane reason Mister thought it would better to find a cab. What a joke! We couldn't get a cab to save our lives! He was convinced the Tube would be much too crowded. So instead we sat in the pouring rain for 15 minutes (we had umbrellas but still . . . ) until we realized that we didn't have time to eat a nice dinner before our play so we just dashed into a Pret à Manger and ate some incredibly mediocre food. But at least we were starving anymore and we found a taxi immediately after we were done eating.
We ended up being plenty early to see the production of George Orwell's 1984. Mister is an incredibly huge fan of theatre. I prefer movies myself. I like to see close-ups and luxurious scenery. But there is something wonderful about watching a play happen live. We aim to see things we can't see elsewhere; meaning no Wicked or Les Mis. I also don't like musicals very much. I realize that makes me a total weirdo but I just get so tired of all those cheesy songs.
We decided on 1984 because the book can be so hard to plod through and I thought it might help the kids if they have to read it at some point (doesn't everyone have to?). Plus this production got rave reviews.  York's been bitten recently by the drama bug and it was exciting to see him get to experience real, high-quality productions for the first time. The play was really excellent and I finally understood the story for the first time.
In 1984 the nursery rhyme "Oranges and Lemons" is used throughout. I thought it was particularly interesting since the first line is "Oranges and Lemons, sing the bells of St. Clement's". And those bells of St. Clement's? Those are the very ones I shot a video of on the first day we were here, ringing their little hearts out.  I included this YouTube video of the history of this nursery rhyme because it's pretty interesting if you like London-y things. Kind of long but maybe worth watching if you're sitting at the DMV, bored.
My British accent is more like Jennifer Coolidge's in Austenland but maybe if I watch this video a few more times I'll get the hang of it. Which accent is your favorite?
School just ended for us on Friday and this last week was a killer. I barely had time to catch my breath. My favorite part of the end-of-the-year festivities was going to see the silent movies made by Ada's second grade Theatre Arts class. They learned about silent films and got to make several  of their own. Since I know you're dying to see Adelaide's, here it is in all it's old-timey glory. (It's the story of Jack and the Beanstalk. Ada plays Jack's mother.) It's a whole lot more creative than just acting out a silly old play.
My kids have been bugging me for months to watch a bunch of YouTube videos by some German guy named Flula. Apparently he lives in America and has a bit of trouble figuring out the idiosyncrasies of our language.  Finally I caved and watched some of these videos. They're pretty funny, although he's no Sweet Brown. This one was my favorite. These are a lot funnier if you have preteens to watch them with. (For some reason this guy alway tapes videos in his car. Kind of weird. And he is a DJ part time, hence the headphones.) If you want to see more of the German Guy his "Rock, Paper, Scissors" and "Jennifer the Party Pooper"  vids are also really good.
Because I am a total expert on all things involving children, my opinion is extremely valuable. Which is why I was consulted for this story on a local news channel.
OK, fine, I'm not a parenting expert.
I just happen to be friends with a reporter (Jen from Baby Making Machine). And if she's doing a story that involves teens, guess who she calls?
So you should watch this and learn about teens on Facebook. Also, check out my sweet 'do. I had no idea I was going to be on TV; I just coincidentally looked cute that day. I love when fate smiles on me like that.
Welcome to my first video how-to! (Do I have to tell you how much I hate my voice?) This is a tutorial on one of the most common problems in everybody's house: a leaky toilet that's constantly running. This is such a super easy problem to fix. Anybody can do it!
I am not a believer in luck. I mean, lucky things happen. But I don't believe in it as a "force" exactly. But I do believe in the Magic Circle.  I have a Magic Circle. I was having lunch with some friends today and we started discussing what exactly the magic circle is.
The Magic Circle is good things happening in your life. It is the bread usually landing butter-side up. It is winning prizes and free trips. It is an invitation to The Universe to share its generosity and goodwill.
I don't know whether everyone has a Magic Circle.  But I suspect a lot more people would have one if they believed they did. Mister, for example, has more of a raincloud that perpetually follows him around. "Believe in your magic circle!" I chirp, usually as he is muttering curses and sulking about something.
"There is no Magic Circle," he says. To which I say, "You are right. If you believe you will have bad things happen, that's what you will get." But the Magic Circle is about believing good things will come your way: things, friends, happiness. And they do.
At least, that's how it works in my life. Obviously there are bad things and unhappiness and regrets. I'm not talking about life in general. I'm talking about the cream on top.
Do you think there is such a thing as a Magic Circle? Are some people just lucky or unlucky?  Do good things beget more good things?  While you think about that, here is a hilarious video that Mister forwarded to me. It seems I am in good company.
My kids started driving me crazy the day after school got out. There was the constant squabbling, playfighting, and watching each other play the wii for hours on end ( I loathe that, but it's just so peaceful while they do it, that it's hard to crack down and turn it off). Some people go cold turkey and turn off all screens during the summer, but I think it should still be a fun time of year (especially since we really limit TV and video games during the school year). I just needed to figure out some sort of system.
My friend Amy and I escaped for lunch a few weeks ago. She told me about the system she uses in her house and a giant light bulb went off over my head. I took her idea and ran with it, expanding on it to fit our family's needs.
This is how it works:
–Our house is divided into six stations (Art, Reading, Computer, Puzzles, Academics, and TV).
–Each station is in a different part of the house (or in separate parts of the same room) so there is very little annoying and teasing of siblings going on.
–Stations last for 45 minutes each (sometimes if we have other plans for the day we'll only do stations for 20-30 minutes a piece). Then the kids rotate to the next station. Each child goes to all of the six stations every day, Monday through Friday. We usually begin in the late morning after everyone has done their chores.
–Everyone gets a chance to choose which station they would like to start with. Yes, they will all have a chance at every station, but you know how much siblings like to compete with each other. Currently we are picking popsicle sticks labelled with the kids' names. I draw one and that child picks where they'd like to begin.
Here are the details:
Art (at the kitchen table):
Everyone has a sketch book, so there are minimal amounts of loose paper floating around. All coloring and watercolor go on sketchbook pages. We also have Shrinky Dinks, pipe cleaners, Sculpey clay (for the older kids), Play-Doh (for the younger ones), and brand new sets of watercolors, crayons and markers. I stocked up on the fabulous coloring books that Dover Publishing carries. We also have an assortment of drawing "how-to" books and creativity-building exercises.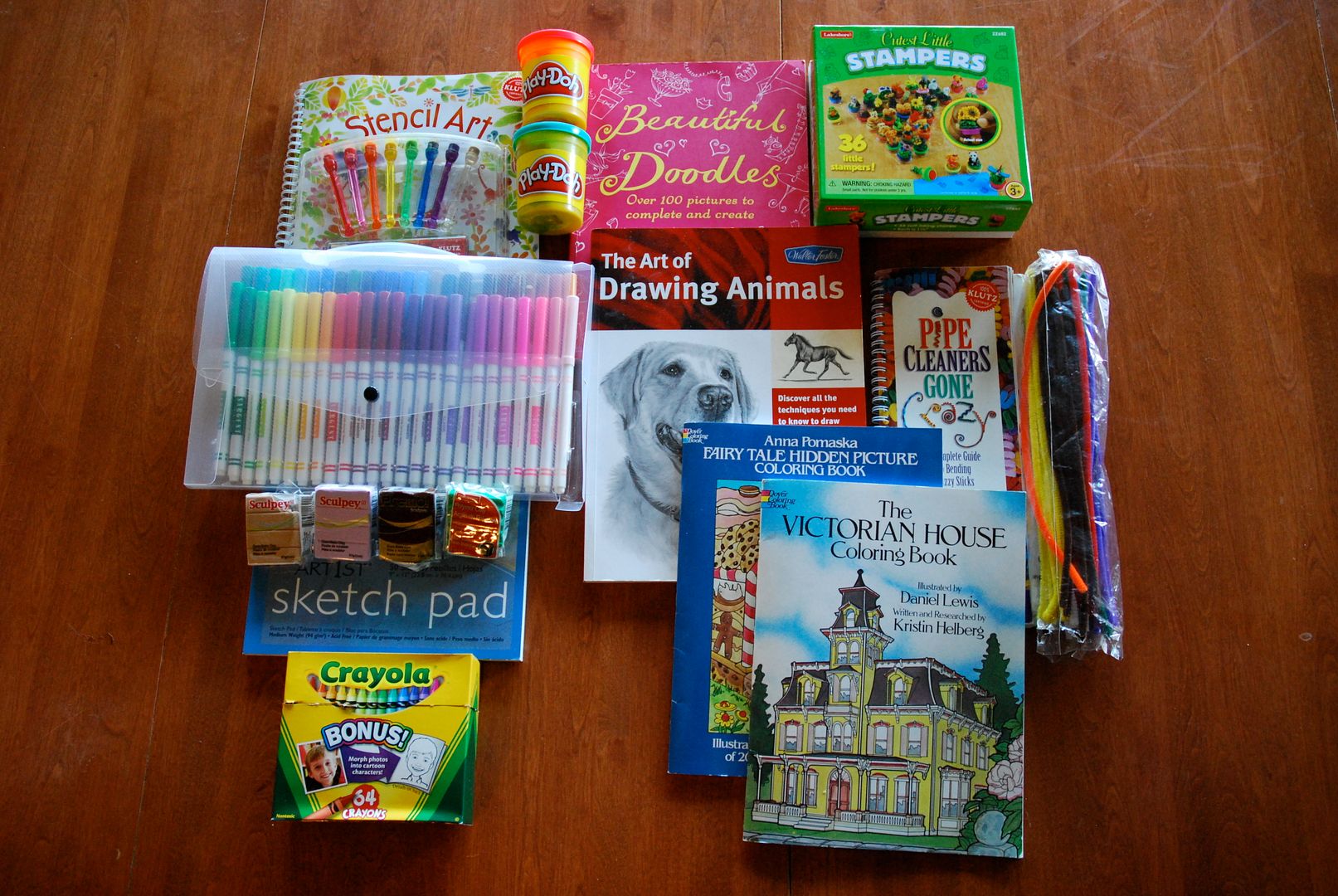 Puzzles (on a card table set up in the Mudroom): I bought ten new puzzles of all different skill levels. I also got one of those roll-up puzzle savers so the older kids can work on the same puzzle day after day. We also have Sudoko, crossword, and word-search books of different skill levels. My friend Amy and I will be swapping puzzles after a while to keep things fresh.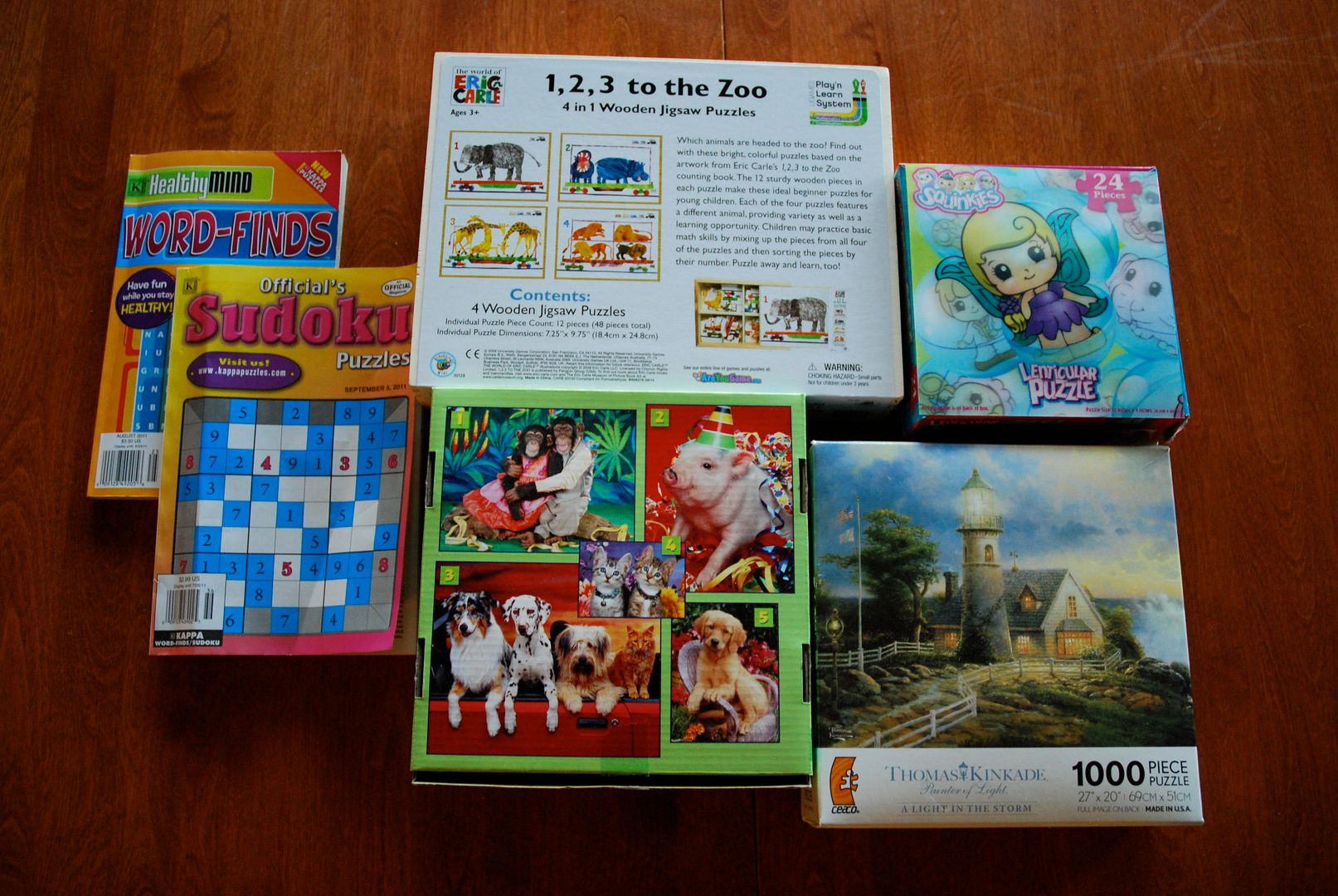 Academics (on the coffee table in the family room):
There is a real variety here since Jasper barely knows his letters and India is taking AP classes. Probably our favorite item is the Flashmaster. It's a fantastic gizmo that quizzes kids on their addition, subtraction, multiplication and division facts. They can be timed or not timed, and the computer remembers which problems they got wrong. It's been wonderful since my younger kids have never been required to learn their math facts very well. You can get Flashmaster on Amazon for $50.
We also have a Geography Globe from Oregon Scientific, the Phonics Firefly (perfect for helping the younger kids learn their letters and sounds), and some educational Leap Pad sets.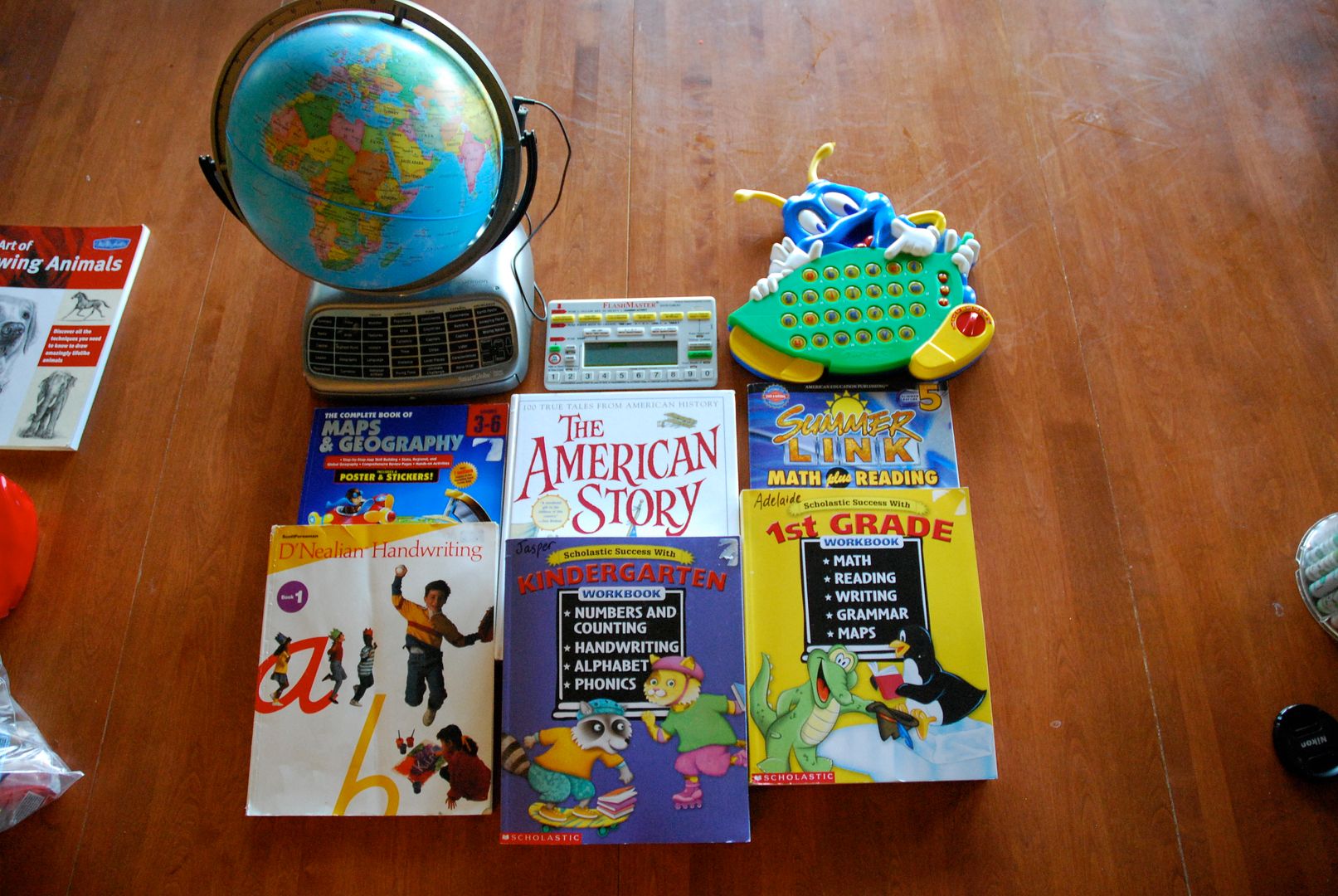 In this category we also have workbooks (the great kind sold at Costco that are full of worksheets), handwriting practice sheets and spelling word quizzes. I try to get items that the kids can do on their own so I don't have to sit there all day. The older kids are working on assignments they were given at school to complete over the summer.

Reading (in the Living Room which is where our bookcases are):
This is read-alone time. Every few days I rotate the supply of kids' books so they always have something new to look at. Library books stay in here too. The older kids usually have a novel they're reading.

Computer (playroom):
The kids can play whatever they want without someone claiming that "she took my turn!"; I don't really care what it is, whether it's Webkinz or something educational (Finn has been doing a teach-yourself-German program). This is their entire computer time for the day. This would probably include Nintendo DS time, if you have those at your house.
TV (in the playroom where our only TV is):
This includes video games and DVDs. Whatever takes place on a TV, this is the time to do it. The best part of this system is that you don't have children sitting around watching their siblings play games(one of my major pet peeves). Occasionally we'll watch a movie as a family in the evening, but for the most part this is their entire allotment of video games and shows.
You could tailor the stations to suit your family better. If you all play instruments, you could do music time, for example. Or you could do an outdoor station. With our blazing summer temps, though, the kids stay indoors most of the day but we spend evenings playing outside or swimming. This system would work with a smaller family, too. For the last week India and York have been visiting their grandparents in Oregon and we've been rotating four kids around the six stations. It's been fine.
We have been doing Stations for a couple of weeks now and it has been phenomenal! The kids never complain about being bored and they bug each other so much less. My house is actually quiet during the day! It's a miracle!
York got me hooked on this cute video by the Japanese band Sour. I have no idea how they managed to do it. So simple but so complicated (Plus the song is pretty good too).